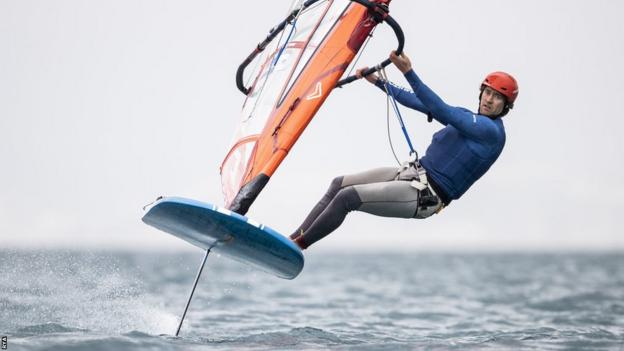 "Have you watched Top Gun? The excitement that you get when you watch that, it's a bit like that to be honest."
British windsurfer Sam Sills is explaining the thrills and spills of the sport's newest format, the iQFOil.
"When you're flying around on the race course going so fast, with 100 other people right on a knife-edge of crashing or winning a race, it's really intense."
Sills, 30, learnt to windsurf on a lake close to his home in the Cornish town of Launceston and progressed up through the British ranks.
He was not quite good enough to make the Great Britain team for the 2016 or 2020 Olympics on the old RS:X style boards and instead went off to work as a naval architect.
But when it was announced that the faster iQFOil class was being introduced for Paris 2024, he returned to the sport and has made rapid progress.
The iQFOil boards use hydrofoils attached to the bottom of the board to lift it out of the water, making for some spectacular racing and speeds of up to 30 knots (about 35mph/55kph).
"From the beginning with the foil I was pretty much in the top 15 and then top 10, then the top five within a couple of months," Sills told BBC South West.
"Then it was really just a case of thinking outside the box, working together with the team and just trying to consolidate everything we were learning every day and every month to just keep moving forwards."
'Huge amount of pressure'
In February Sills won bronze in the Lanzarote International Regatta, having crashed out in the final at the iQFOil Games in the Canary Island a month before.
The format, designed to be exciting for spectators, sees the top three competitors from the heats race off for the medals in a winner-takes-all final.
"It's a huge amount of pressure," says Sills, who has been picked for the Olympic test event in Marseille later this year – putting him in prime position for the one spot available for a British athlete at the Games.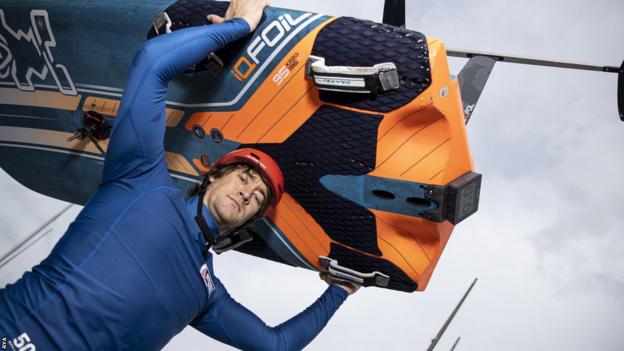 "The goal is to go in first, so you then at least guarantee yourself a medal.
"But the bad thing is you go in first and then you watch your competitors, the other nine guys, go through from quarter-final, semi-final and then you're going to race two guys that you don't know yet in the final.
"It's quite hard because when those guys go through they're so excited, they're so ready to beat you and take the first place.
"So you really have to be mentally ready for that and get yourself in a place where you have that excitement as well and you're ready to race, because you're just sat there watching the whole thing unfold.
"A lot of times people get momentum and it's a real mental game in these finals."
So could Sills come away with an Olympic medal next year, having almost given up on the sport?
"I certainly visualised a lot of this sacrifice and hard work," he says.
"I skipped Christmas with my family, I skipped my 30th birthday, my uncle passed away and I couldn't make the funeral, I couldn't be with him in his last moments.
"The moment when hopefully we can take a medal and celebrate that with all the people that have been involved, sometimes I visualise it and get quite emotional at the thought of it.
"But I try and use that and channel that in performance and just give everything, so we'll see what happens."
Source link