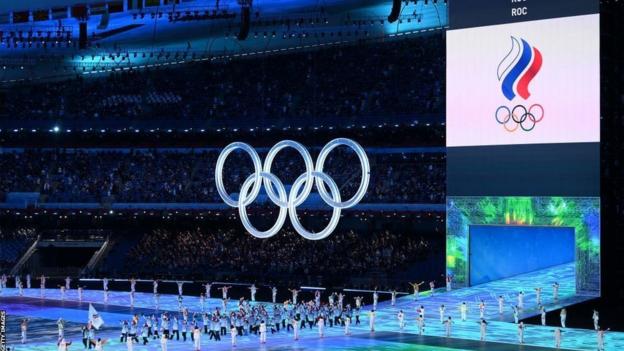 Russia plans to stage an international multi-sport event by relaunching the 'World Friendship Games' in 2024.
After the invasion of Ukraine, Russian and Belarusian athletes were widely banned from international sport.
However, the International Olympic Committee has recommended both countries' athletes are allowed to compete under a neutral flag.
The Friendship Games were first organised by the Soviet Union and eight other countries in 1984.
They involved states which had boycotted that year's summer Olympics in Los Angeles.
Announcing plans for an event after the Paris Olympics, Russian sports minister Oleg Matytsin said they "should be held on a regular basis in the future".
"We propose to intensify the practice of holding competitions in an open format with the invitation of partner countries," he said in a statement on the Kremlin website.
As part of the IOC's sanctions on Russia and its ally Belarus, no international sporting events can be organised in either of the nations, while their flags, national anthems or any other national symbol must not be used.
Some Olympic sports such as archery, canoeing and taekwondo have allowed athletes from the two countries to compete, while Russian and Belarusian athletes compete as neutrals in tennis.
The IOC is yet to make a decision on whether Russians and Belarusians can compete at the Paris Games, which run from 28 July to 11 August 2024.
Earlier this month, Ukrainian government minister Oleh Nemchinov said Ukrainian athletes should not be allowed to compete in qualifying events for the Olympics if Russians are taking part, while Ukraine has threatened to boycott the Games.
A host of international athletes have criticised IOC president Thomas Bach's claim that Russians and Belarusians competing as neutrals in their sport "works".
Source link