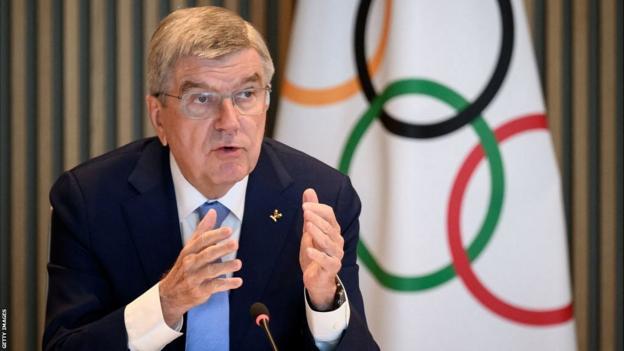 Ukraine should stop "depriving" its athletes of the chance to qualify for the Paris 2024 Olympics, says International Olympic Committee president Thomas Bach.
That decision came after the IOC recommended Russian and Belarusian athletes be allowed to compete under a neutral flag.
"The Ukrainian athletes are being sanctioned by their own government for the war that has been started by the Russian and Belarusian governments," said Bach.
"It is hard to understand why the Ukrainian government is depriving their own athletes from the chance to qualify for Paris 2024 and to make the Ukrainian people proud.
"It is hard to understand why Ukrainian athletes are allowed to compete in tennis but not in table tennis, it's hard to understand why they're allowed to compete in cycling but not in swimming.
"What the entire Olympic community and in fact the entire world is longing for is Ukrainian athletes shining brightly in international competitions."
Ukraine has previously threatened to boycott the 2024 Olympics if the IOC allows Russian athletes to compete.
Participation in events featuring Russians and Belarusians could see Ukrainian federations sanctioned and lose "national status".
Some sports already allow competitors from Russia and Belarus to compete as neutrals – for example, tennis players from the two countries compete on the ATP and WTA Tours under neutral flags.
Bach added: "We all want [Ukrainian athletes] to have the opportunity to qualify for the Olympic Games in Paris 2024.
"This means participating now in the qualification events so they can make the Ukrainian people proud, showing the resilience of the Ukrainian people and of the Ukrainian Olympic community."
No decision has yet been taken on whether Russian and Belarusian athletes will be allowed to compete in next year's Olympics.
The United Kingdom is among 36 countries to have pledged support for an ongoing ban.
Source link