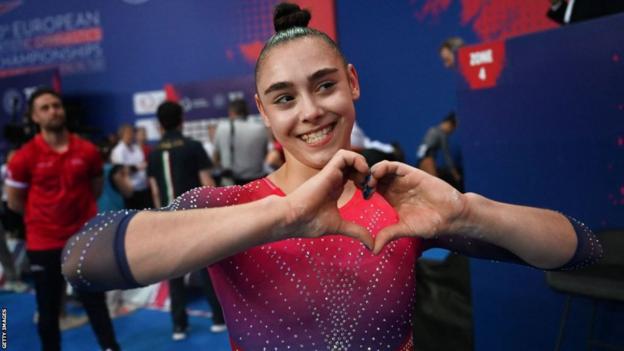 Jessica Gadirova says she goes into every competition pretending she has never achieved anything – that is starting to become a lot of things to 'forget' about.
In fact, since the moment she lit up the Tokyo Olympics as a 16-year-old alongside her twin Jennifer to help GB to a first team medal since 1928, she has been gathering major medals and records to put herself among the favourites to shine at Paris 2024.
In just two years she has amassed 12 major medals, including one world title and five continental ones.
And, it seems, we have yet to see her best as she tells BBC Sport she is striving to "upgrade skills on all apparatus" in time for next year's Games.
Great Britain have never won an Olympic all-around or team gold – could that be about to change?
Absence of Russians opens a door
Russian gymnasts will not be able to defend their Olympic team titles because their ban from international competition means they have missed the deadline to qualify for the team events. Even if their ban was to be lifted they could now only qualify for individual events.
"It definitely opens a chance for us of getting a potential team medal – hopefully a gold," Gadirova said.
"So that definitely helps but it does feel quite empty competing without the Russians as they are always at the top and they are such incredible gymnasts to watch and they always produce amazing routines."
Russian or Soviet gymnasts dominated the sport for many decades although the team medals – won while competing as the Russian Olympic Committee as part of sanctions imposed after a state-sponsored doping scandal – were their first since 1996 for the men and 1992 for the women.
Britain's women took silver behind the United States at last year's World Championships in Liverpool and the men earned bronze behind China and Japan.
Gadirova says she has the added advantage of the experience of already having competed at an Olympics and is confident she can deal with the additional pressure of expectation on her this time.
"I go into every competition pretending I've never achieved anything and take it as a new competition and it's time to achieve new goals and show who I am," she said.
"I don't really watch [other gymnasts] so I don't get distracted. When it's my turn I just focus on my individual performance and perform my heart out."
Twice as good? Gadirova hopes twin back in time for Paris
Gadirova said it was tough not having her twin sister at the Europeans last week while she recovers from injury but hopes she will be back in time to earn a place on the GB team in time for the Olympics.
"We train together all the time, we have grown up with gymnastics together so it was definitely hard not having her there but I knew she would definitely support me 100% there," she said.
"[When I won] she literally just went crazy on the phone.
"I'm definitely hopeful for her, I know she's training very hard.
"I just want us both to have a dream together and achieve it. She is definitely my inspiration and I love her so much."
The pair, who were born in Ireland to parents from Azerbaijan, started gymnastics together at the at of six because they "didn't stop running around the house" having also given swimming, dancing and football a go.
They finally made their first trip to Azerbaijan to meet more of their family in December, with Jessica saying it was "nice to get recognised here and in Azerbaijan – the more recognition the better!" with the country's media having reported on their success.
Jennifer has not won a major individual medal but was part of Great Britain's silver-winning world and European teams last year, as well as the Olympic bronze-winning one.
GB success amid difficult times for gymnastics
Last year Great Britain won a record 11 European medals, with this year's nine their second best showing as the country continues to build on the landmark success of gymnasts like Beth Tweddle – who won GB's first individual women's Olympic medal in 2012 – and Max Whitlock, who in 2016 became the first British gymnast to win an Olympic gold.
But the gymnastics headlines in the past couple of years have been more about failings regarding gymnast wellbeing and welfare, with the Whyte Review – co-commissioned by UK Sport and Sport England and published in June 2022 – finding physical and emotional abuse within gymnastics in Britain was "systemic".
Gadirova's GB team-mate Becky Downie was among the gymnasts to speak out about the abusive behaviour in gymnastics training.
Sport England and UK Sport have since committed to strengthening safeguarding and welfare in light of the findings, while British Gymnastics announced plans for "zero tolerance on abuse".
Gadirova said she herself had never experienced anything negative and that she had always had the support she needed from British Gymnastics and her coaches, while Whitlock said last year the sport was now "going in the right direction".
And at the same time there is also optimism for even more sporting success.
"GB is getting stronger with the skills that we are doing and especially the team work that we have surrounding us," Gadirova said. "There are lots of new people in the team and we've all just been working really hard to make our dreams come true."



Source link