Disclosure: This post may contain affiliate links. This means, we may receive a small commission if you choose to purchase something from a link we post (including links to amazon.com because we are a participant in the Amazon Services LLC Associates Program.) Don't worry, it won't cost you anything.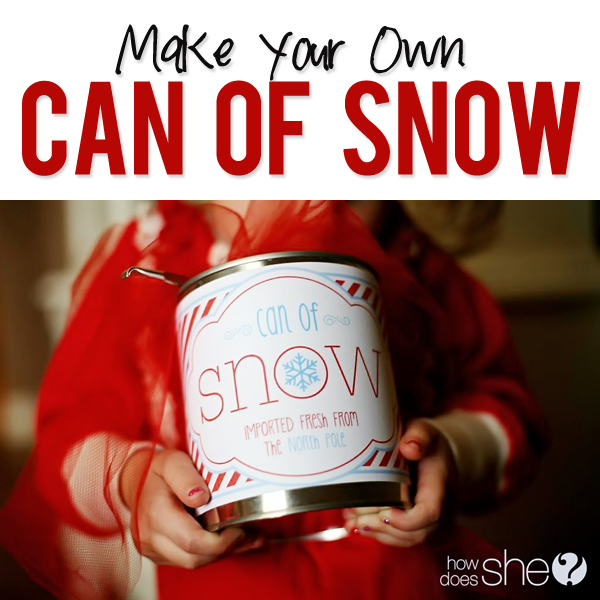 Do you have snow?! I don't. Sniffle. I've been dreaming of a white Christmas but, here in the South, that's just down right wishful thinking. I was just starting to feel REALLY sorry for myself and, more importantly, my kids, when Chickabug emailed a brilliant idea. With a couple of simple ingredients, and a ridiculously adorable printable, we had a "Can of Snow"! Imported Fresh from the North Pole, I might add. 😉  So on with the How to Make Snow tutorial.
Don't you want to touch it?! My kids couldn't keep their hands off the stuff. I kept having to remind them to move their hands so I could take pictures! 😉
So, how do you make this glorious faux snow?
With 2/3 KOSHER salt, 1/3 cornstarch, and glitter until magical. 
  Get those anxious little fingers mixing! Good luck getting them to stop. The texture is so fun!
Fill the cans!
After your kids are done playing with it, (this could be hours), fill your "Can of Snow". You can get these empty quart-size paint cans for about $2 at any home improvement store.
  Hammer down the lid good and tight.
 Make sure you add a paint can opener. It's part of the fun! You can get them free at home improvement stores. Just ask for them when you are purchasing your paint cans. 
The back includes a witty ingredients list, and directions. There is a "TO: FROM:"  This is, by far, the coolest present ever.
I basically had to rip this can out of the little girl's hands to put it in the freezer. (Make sure you just chill your faux snow. Freezing it for hours could cause moisture build up and ruin your cute printable.)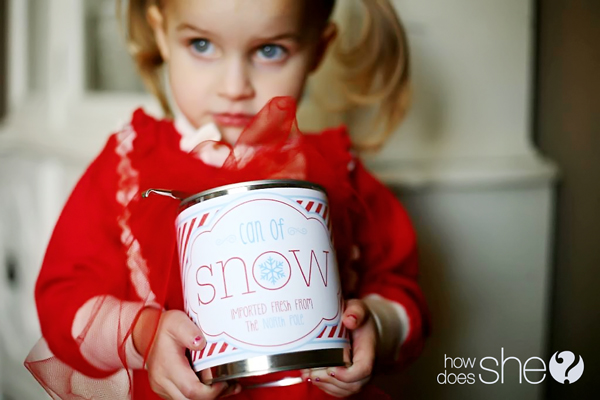 Once it has chilled, get ready for some fun. Have a snow fight (not in the house!), decorate the windowsill, or gift it to friends.
My kids can't wait to deliver these cans. Heck, I can't wait either! It's pretty magical.
Note:  This "Can of Snow" is imported fresh from the North Pole. But it may taste like salt if you eat it, so… don't. 😉
Are you ready to make some snow?! If you are a HowDoesShe subscriber, your Can of Snow printable is waiting for you! If you aren't on our email list yet, it's about dang time you hopped on board. 😉 Simply subscribe below and confirm in your inbox. The link to this exclusive Can of Snow, as well as all of our growing collection of exclusive printables, will immediately be available to you.
We send an e-mail once a week, updating you on our creative posts. Don't worry, we treat our e-mail subscribers right. We pinky promise to never EVER sell your e-mail address.
Lastly, thank YOU for supporting HowDoesShe! We are truly grateful for each one of you. Here's wishing you a wonderful holiday season full of cherished moments with loved ones.