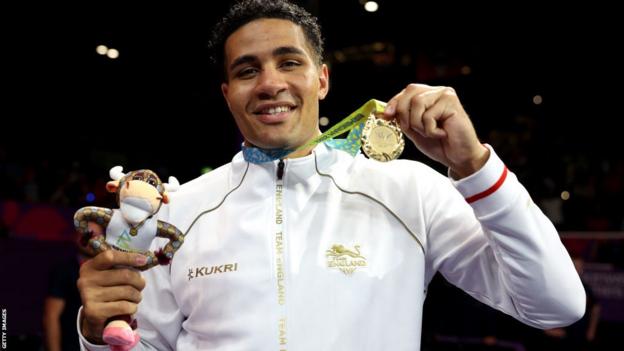 British boxer Delicious Orie has sealed a Paris 2024 Olympics spot with a unanimous semi-final win on day 10 of the 2023 European Games in Poland.
Orie, 26, outclassed Bulgaria's Yordan Hernandez Morejon in all three rounds to reach the super-heavyweight final.
The Commonwealth Games gold medallist will face Azerbaijan's Mahammad Abdullayev for the gold medal.
Team GB's Kiaran MacDonald, Rosie Eccles and Charley Davison also won bronze medals in the ring.
"Every single day I wake up in the morning before I go out on my runs and I think to myself 'I'm going to be an Olympian'," Orie said.
"Today's the day so I'm happy.
"When I'm speaking to my mum and dad and we're just talking about normal things, it's at the back of my head – I've got to qualify for the Olympics.
"It's a dream I've always had but now I've got it after working so hard. This is a day I will never ever forget."
MacDonald, Eccles and Davison all secured bronze despite losing their respective semi-finals.
Elsewhere, Adam Burgess, James Kettle and Ryan Westley claimed the first British canoeing medal of these Games with bronze in the men's team event, before the women's team of Mallory Franklin, Sophie Ogilvie and Kimberley Woods went one better by winning silver.
Alexander Dunn and Adam Hall took bronze in the badminton men's doubles, but defeat in their semi-final denied them an all-British final with Ben Lane and Sean Vendy, who kept their gold medal ambitions alive with victory in their semi-final.




Source link