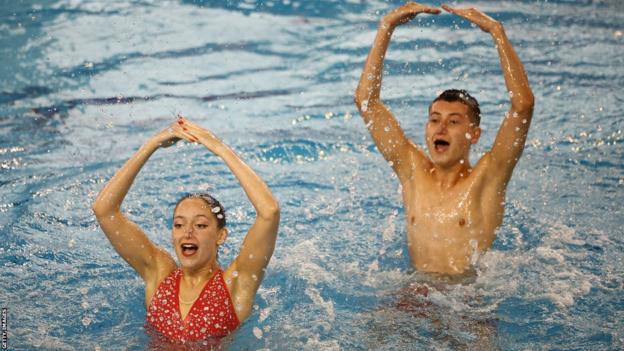 Ranjuo Tomblin made history as Great Britain's first senior male artistic swimmer as he and Beatrice Crass won Team GB's first medal at the 2023 European Games with bronze in Krakow.
Tomblin, 17, said he hoped his achievement in the mixed duet technical would show the sport is "for everyone".
The British pair scored 203.4916 points with their routine to finish behind winners Italy and runners-up Spain.
"I just honestly can't believe it," Tomblin said.
"I'm still shaking a bit but I hope that by winning this medal I can encourage other boys into the sport and show it's for everyone."
Men will be allowed to compete in artistic swimming for the first time in the history of the Olympic Games at Paris 2024, however the mixed duet event has not yet been added to the programme.
Tomblin was introduced to the sport in 2017 through a coach at his local swimming pool who knew of his background in gymnastics.
Good friend Tomblin and Crass, 19, won European Junior Championships bronze together last year – where Tomblin also took silver in the men's individual competition.
On Thursday, the British pair scored 117.0916 in elements and 86.4000 in their artistic impression to finish 38.8683 points behind champions Giorgio Minisini and Lucrezia Ruggiero of Italy.
"Getting onto the podium, being able to stand there after all the hard days of training, it really does make it all worthwhile – especially doing it together," Crass said.
"We're both really excited about the future. We have the mixed free to come so we'll be keeping up the same energy as we move towards that."




Source link