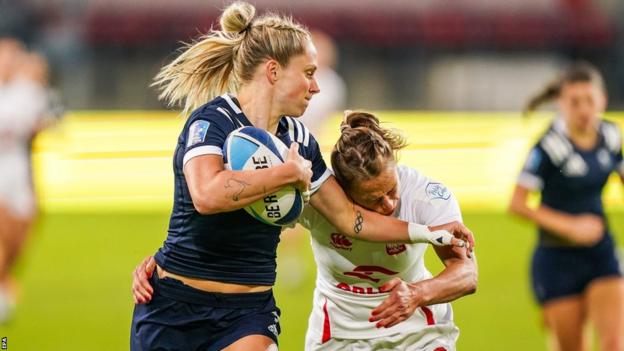 Great Britain's women's rugby sevens team won gold at the European Games in Krakow, Poland to clinch a place at the Paris 2024 Olympics.
The dominant GB women ran in five tries to beat Poland 33-0 in Tuesday's final.
The men's side missed out on Olympic qualification but secured silver following a 26-12 defeat by Ireland.
They will have one last chance to secure a spot in Paris at the final Olympic qualification tournament in June next year.
In the pool, Robbie Lee, 18, scored 92.60 on his fourth dive to win Team GB's first of three medals on Tuesday, landing silver in the men's 10m platform.
"It is my first major senior event and to come away with a silver medal is great," Lee said. "Knowing I could do a lot more and a lot better is so good as well. I am very excited for the future."
After day seven, Great Britain have won 27 medals in total.
Team GB are competing across 18 Olympic sports at the multi-disciplinary European Games, which formally began last Wednesday and finish on Sunday, with qualification for Paris 2024 on the line in 10 events.
Jones 'buzzing' as Paris beckons for GB women
Great Britain's women missed out on a sevens medal at the Tokyo 2020 Olympics, suffering defeat to Fiji in the bronze match, but will have another opportunity after securing qualification for Paris.
After beating Belgium 36-12 in the semi-finals, Emma Uren scored two tries in the final to help the team sweep past hosts Poland.
Co-captain Meg Jones said: "I'm so happy that our journey worked out, it's a huge sense of relief that everything went to plan.
"We've been pushing the boundaries all year and we definitely pushed them there. I'm so buzzing for the girls – to have this experience and go out there and achieve what we just did is just a stepping stone in the right direction.
"Paris qualification is exactly what we came for and we're leaving with it."
The men's side, who suffered defeat to Argentina at the same stage as the women in Tokyo, reached the European Games final after beating Spain 19-7 but came unstuck against favourites Ireland in the final.
Jordan Conroy scored two tries as Ireland ran in four compared to Great Britain's two.
Sunni and Kid Karam make British breaking history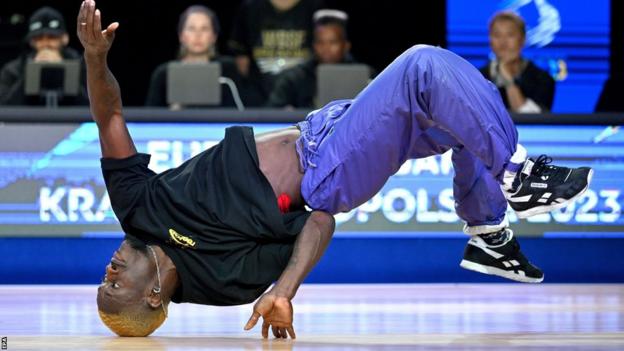 Elsewhere, B-Boy Sunni and B-Boy Kid Karam became the first breakers to represent Team GB before breakdancing makes its Olympic debut in Paris next year.
Karam made it through the round-robin stages before suffering defeat to the Netherlands' B-Boy Menno in the quarter-finals.
"This whole experience has been incredible. I've enjoyed it so much and I've been blessed to be part of the team," said Karam.
"Obviously, being on the stage at such an amazing event, the crowd was great, the actual event itself was amazing and it was a great representation of breaking, for what's to come at the Olympics.
"I'm learning a lot about my breaking by battling the best. I'm learning more about myself and I had a lot of fun on the stage. I just really enjoyed the battle today."
In the women's modern pentathlon semi-finals, Kerenza Bryson and Olivia Green finished in sixth and seventh place respectively to progress to Saturday's finals.
Source link