These days, comics leaks are inevitable—whether it's a controlled media release ahead of time or the sheer logistics of getting books in retailers' and readers' hands, it's rare that the headline-grabbing twists of a big-two comic make their way to release unrevealed. But an unprecedentedly early leak of a shock from Marvel has sent the comics internet into a headspin.
Spoilers of the Week March 7-11

Earlier today, what appear to be final pages from Amazing Spider-Man #26, the next issue of the Zeb Wells/Jon Romita Jr. run on Marvel's flagship Spider-Man book (due out in two weeks time on May 31) hit social media. Although the images are relatively low quality—and one has had dialogue in its speech bubbles blurred to remove context—together they both reveal that the current arc of the story will see Kamala Khan, aka Ms. Marvel, die in Peter Parker's arms.
Death is rarely shocking, nor is it permanent in comics at this point—there is a reason that for all the splashy headlines a big name character biting it generate, the march of time and superhero logic alike often means that deaths, especially the big heroic ones, are far more likely to be overturned. Especially so in the current world of Marvel Comics, where Mutantkind has not only learned how to cheat death through resurrection protocols, but is now, after that information got publicly revealed, offering that power to the disenfranchised of the whole world, Mutant or otherwise. But killing Kamala Khan off seemingly out of nowhere is what has drawn particular shock and ire among readers.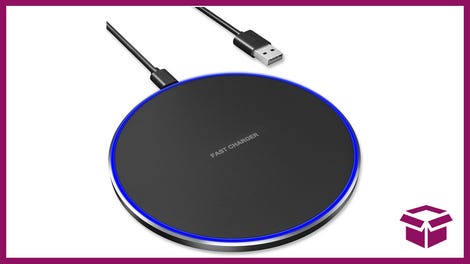 70% Off
Fast Wireless Charger
Charge it up
This thing can fast wireless charge a multitude of devices including iPhones, Samsung Galaxy phones, AirPods, and other devices too, and it's really easy to use
Even putting aside Kamala's vast popularity aside—she is arguably the most successful new character Marvel Comics has created in the 21st century—her mainstream awareness is bigger than ever thanks to the character's transition to the world of the MCU, with Iman Vellani's portrayal of Kamala in the Ms. Marvel Disney+ show and the upcoming team up film, The Marvels. Killing her at a time when an audience magnitudes larger than the regular comics-reading audience is interested in the character feels like a pretty weird move from a marketing standpoint, especially when that interest likely means that Kamala's death is going to be undone relatively quickly.
There's also the much more murky optics of killing Kamala—Marvel's most prominent South Asian character; alongside the likes of Miles Morales, its breakout teen character; and, of course, a young woman—as part of Amazing Spider-Man, to further the story of Peter Parker. Optics that are made all the more messier that Amazing Spider-Man #26 is due to release May 31, at the climax of Asian American and Pacific Islander Heritage Month. Killing off such a prominent and influentially representative character at all, even temporarily—let alone not as part of a publisher-wide event or even in her own comic, but instead a book where she is an infrequent supporting guest character—is a move that is just as likely going to have fans reacting in anger as it is going to draw attention through shock.
And that attention is seemingly exactly what Marvel wants to court, positivity or negativity be damned. As angry fans reacted to the leak on social media today—or bigots reveled in sexist and racist celebration—Marvel took the unprecedented move of addressing the leak formally. In a brief tweet with an animated graphic of Amazing Spider-Man #26's cover, the company simply stated "Amazing Spider-Man #26 spoilers are online. Avoid the web (or don't) at your own risk."
Hours later, Marvel formally acknowledged the explicit details, revealing that Kamala's death will be addressed in a follow-up one-shot issue called Fallen Friend: The Death of Ms. Marvel—of course, via a "controlled" press reveal at Entertainment Weekly.
On the one hand, a casual approach to the inevitability of major plot leaks is almost refreshing. On the other, as previously mentioned, a leak of this magnitude and potential for controversy, this far ahead of publication—and seemingly from just a copy in someone's hands, rather than a controlled media exclusive or from the issue being shipped to retailers—is arguably more shocking than the "shock" of the death itself. Even if internally Marvel are likely still trying to figure out how this leak occurred, treating it from a public-presenting standpoint, especially in the wake of a significantly aggrieved response to the news ("Amazing Spider-Man" and "Ms. Marvel" have been trending off-and-on on Twitter for much of the day), as a casual "see for yourself or don't" just feels weird.
All that said, there's obviously a lot of context missing from the circumstances surrounding this moment in Amazing Spider-Man's current story. We don't know how and why Kamala perishes, and we don't know the impact, but we can make a pretty educated guess, how and when she'll return. In a world where Mutants have cheated death—and where on screens big and small Kamala is no longer an Inhuman as she is in the comics, but a Mutant with similar but still very different powers—there's a distinct possibility that not only will Krakoa provide the path to Kamala's return, but, perhaps even more controversially provide a path to re-aligning the comics character with her adaptation. On that front at least, it's worth noting that so far in the comics Krakoan resurrection has simply not worked like that, whether it's used on Mutants or otherwise (at most it has enhanced a Mutant's already established abilities, not radically overhauled them, but! A conversation and controversy for another time).
The point is, we currently don't know anything about the particular direction of this plot point beyond Kamala's seeming death. We'll have to wait and see, as we likely won't get the full story on May 31 either—but either way, Marvel is about to truly test if any publicity really is good publicity.
---
Want more io9 news? Check out when to expect the latest Marvel, Star Wars, and Star Trek releases, what's next for the DC Universe on film and TV, and everything you need to know about the future of Doctor Who.